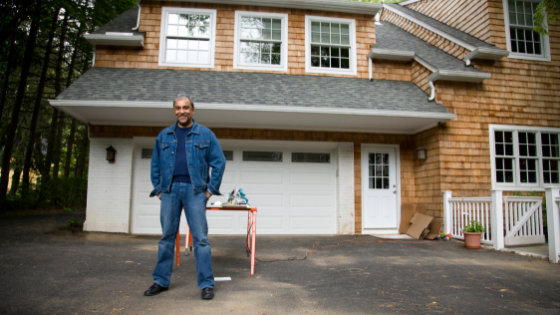 By Peg Augustus
With a barrage of home improvement reality television shows to choose from, many homeowners feel inspired to make changes big and small to their properties in hopes of a strong return on investment. With dramatic reveals and, in some cases, complete overhauls, it can be tempting to jump in and start knocking down walls! A word of caution – there is such a thing as OVER-IMPROVING a property, based on location and comparable homes.
That said, when you recognize how many homeowners put off home improvements until they are necessary to sell their house, make improvements that make you happy. If they make your life more comfortable, you are in love with the aesthetic, and they put a smile on your face – go for it. If you're looking to make improvements solely based on increasing property value, let's look at what works and what doesn't!
Replace your garage door. This one surprises a lot of people! It surprised me! Based on Remodeling Magazine's Cost vs Value report, A new garage door essentially pays for itself, earning an incredible 98.3% of your money back! It's all about curb appeal!
Replacing vinyl siding for stone veneer. This curb-appeal upgrade was another surprise, earning remodelers a 97% return on their investment last year!
Swap for a steel door. Another outside aesthetic improvement – changing your entry door with a 20-gauge steel door, with a clear dual-pane half-glass panel can earn you a 91% return!
Minor kitchen remodel. According to experts, a minor kitchen remodel that includes updating cabinets, swapping out appliances, replacing sink and faucet, and swapping out new flooring can earn you up to 81% of your costs back in return.
What do experts suggest you NOT try on your own?
Anything HVAC
Advanced electrical repairs
Plumbing repairs
Roofing
Siding
I am happy to recommend professionals to help you with any of your home improvement needs. As a neighborhood real estate specialist, I have spent years procuring a list of top-trusted home repair and improvement pros so that my clients do not have to guess when it comes time to call an expert. If you'd be interested in a recommendation or have a real estate question or need in 2019 – I hope you'll consider me a resource you can count on! Happy New Year!