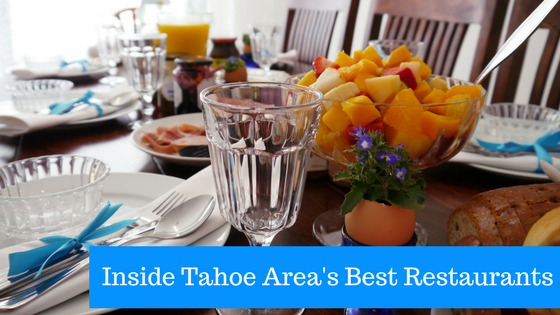 More Than Snow
By Peg Augustus
Tahoe is way more than a "pretty face" of snow and skiing. It hosts a delightful mix of eclectic businesses, breathtaking views, an extraordinary event culture – and of course, food. What's a resort area without the kind of dining experiences that leave both locals and visitors something to write home about?
I recently came across USA Today's site, www.10Best.com – and an article that had a tribute to the top ten best breakfast places in our area. Places like the Driftwood Café, The Old Post Office Café, The Squeeze In, and Rosie's.
I loved reading it. A little history, a little peek into the incredible menu items, some fun facts, and of course, how you can get a seat at the table.
Get the skinny on all ten by visiting here.
If you're less inclined for breakfast fare and wondering where some of the best romantic spots in town are for incredible dining coupled with the perfect atmosphere, you'll want to check out their write-up on that top ten as well.
They feature local treats such as Pianeta Ristorante, Edgewood Restaurant, Truckee Tavern & Grill, Café Fiore, and Jimmy's Restaurant. It's the perfect way to scout out date night locations for the month of May.
As the neighborhood real estate specialist in our area, I like to keep tabs on what is happening on our local business scene as well as what shifts are happening in our market in terms of real estate.
As I shared in another recent post – we will definitely be seeing some changes. Interest rates are on the rise and tax changes have exposed California' s high property taxes which is driving buyers to pursue property in Nevada where taxes are lower and home ownership is less costly. Right now, inventory is at a historic low – a sign for anyone eager to get top dollar for their home to do so soon to make the most of their sale.
I'm here to help with any of your real estate questions or needs. We have a beautiful, thriving community here and it's the perfect place for investments as well as a home to settle into. Call me should you need anything at all. We've got the answers to all your questions!