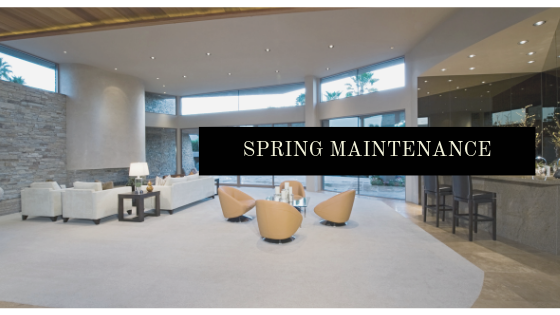 By Peg Augustus
If you're like a lot of people, spring is the perfect time to clear out the stale of winter and give your home a thorough cleaning from top to bottom! While the inside usually gets a good once over, many homeowners forget about the importance of giving the exterior of their homes a solid spring inspection. Here are some tips to keep your home in top shape:
1. Check the roof. The National Roofers Association recommends inspecting your roof twice per year. Things to consider: damaged or missing shingles and signs of rusting, cracking or leaking. If you need a good recommendation for a roofer in our market, please give us a call.
2. Clear out the gutters. Often during winter months, gutters and downspouts can get cluttered with debris. Now is a great time to check drainage, seal holes, and ensure that downspouts face away from your foundation.
3. Have your air conditioning unit inspected. Before summer kicks in, invite your local A/C specialist to do an inspection and perform a maintenance tune-up on your unit to ensure efficiency.
4. Inspect windows and doors. Check for cracks or holes and repair as necessary and ensure that all your windows are sealed effectively. If you need a referral to a home handyman, please let us know.
5. Spruce up landscaping. Clear your landscaping of debris, trim overgrowth and decide your spring and summer landscape and garden additions.
As always, we're here as a resource for you. Many of our clients rely on us to provide vetted, trusted home repair specialists to help them keep their home in the best possible condition so they can help ensure the value of their property. If there is anything you need or questions you might have, I hope you'll contact us right away! Happy spring!